Written by our next Rollins Fellow, Cindy Hwang, Berkeley '15
A detail of the Memorial Colonnade (adjacent to Commons) and Memorial Hall with the inscription "Marne" visible in the upper left
The recent announcement of Yale alumnus Stephen A. Schwarzman's $150 million gift to Yale to create a campus center has brought the University Commons and Memorial Hall into the spotlight. Schwarzman's gift will transform the two campus landmarks into a central hub for student life and cultural programming. As Commons and the upper floors of Memorial Hall face extensive renovation and restoration—the Schwarzman Center is scheduled to open in 2020—it is worth taking a closer look now at the rich lettering incorporated into both buildings. Constructed in 1901 to commemorate Yale's bicentennial, Commons and Memorial Hall were designed in the neoclassical Beaux-Arts style by the architectural firm Carrère and Hastings. Along with Woolsey Hall, Woodbridge Hall, and Beinecke Rare Book and Manuscript Library, they make up Hewitt University Quadrangle (also known as Beinecke Plaza), which represents the symbolic heart of Yale University. 
The memorial cenotaph. Above it, on the Memorial Colonnade, "Château-Thierry" is inscribed.
A memorial cenotaph dedicated to the Yale students and alumni killed in World War I sits in front of the Memorial Colonnade attached to University Commons. Its prominent inscription features engraved and gilded lettering characterized by distinctive, "curly" terminals. Note the ends of the lowercase Fs and Rs, as well as the open loop of the lowercase Gs and unusual, hooked "ears" of the lowercase Ms and Ns. Inscribed upon the Memorial Colonnade's frieze, and visible behind the cenotaph, are the names of seven important World War I engagements, including Marne and Ypres. Cut in monumental capital letters, they evoke the archetypal inscriptions of ancient Rome.
The interior of Memorial Hall is filled with lettering; inscribed onto its marble walls are the names of hundreds of Yale's war dead. Their names are cut in roman capitals, while descriptive information—their class years, military titles, and dates and places of death—is cut in an ornate italic with elaborate swash capitals. Note the flowery loop of the lowercase Ys and extended swashes of the uppercase Ks, Ms, Ss, and Vs.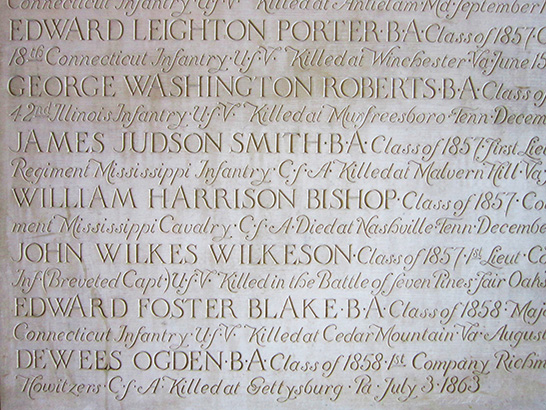 A detail of the interior of Memorial Hall
When next you find yourself on Beinecke Plaza, take a look at the letterforms inscribed upon its architecture. Not only are they elegant but also surprisingly full of personality. And most importantly, they remind the many students, community members, and visitors who pass through the plaza every day of the immense sacrifices made by hundreds of Yale's noblist alumni.